En norsk versjon av denne siden finnes foreløpig ikke. Vi refererer derfor til den engelske versjonen.
2nd MICROCARD Workshop on 6 and 7 July 2022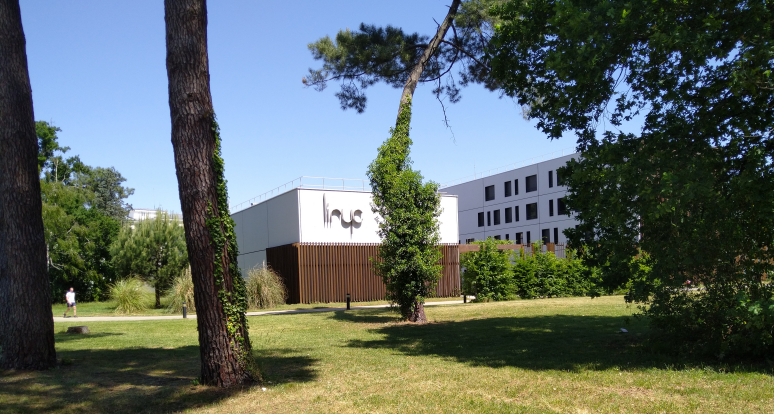 On the 6th and 7th of July 2022 our second workshop will take place. If the pandemic situation permits, this will be the first on-site meeting of our project. It is planned to take place in the amphitheatre of the Liryc institute in Pessac, near Bordeaux. If necessary the meeting will go online, but the dates will not change.
transport and accomodation info
preliminary program
| | | |
| --- | --- | --- |
| |   | Welcome, introduction, and state of the project [Mark Potse, coordinator] |
| |   | Porting the openCARP framework to modern accelerators leveraging Ginkgo's GPU capabilities [Fritz Göbel] |
| |   | Expansion of the openCARP DevOps toolchain for easier development, maintenance and usage [Marie Houillon] |
| |   | Parallel nonlinear solvers for implicit time discretizations in cardiac electrophysiology [Ngoc Mai Monica Huynh, Nicolás A. Barnafi, Luca Pavarino, and Simone Scacchi] |
| |   | A scalable BDDC preconditioner for the cardiac cell-by-cell model with a hybrid discontinuous Galerkin discretization [Luca Pavarino, Simone Scacchi, Ngoc Mai Monica Huynh, Fatemeh Chegini, and Martin Weiser] |
| |   | Boundary element and explicit stabilized methods for the cell-by-cell model in electrophysiology [Giacomo Rosilho de Souza, Simone Pezzuto, Rolf Krause] |
| |   | Data layout transformation and vectorization of ionic models [Arun Thangamani] |
| |   | Towards a GPU code generation of ionic models [Tiago Trevisan Jost] |
| |   | Development of a massively parallel remeshing code for exascale geometries [Francesco Brarda and Algiane Froehly] |
| |   | Heterogeneity and optimization of ionic models [Denis Barthou and Vincent Alba] |
PersonalizeAF workshop on 4 and 5 July 2022
The ITN PersonalizeAF will organize a workshop in July 2022, just before ours, at the same location.
Liryc summer school on cardiac electrophysiology, 27 June - 1 July 2022
The next Liryc summer school on cardiac electrophysiology will be held in the last week of June 2022 at the Liryc institute in Pessac, near Bordeaux. It is expected to be an on-site event.
1st MICROCARD Workshop on 4 February 2022
| | | |
| --- | --- | --- |
| 13:00 |   | Welcome and introduction to MICROCARD [Mark Potse, coordinator] |
| 13:15 |   | keynote: 3D imaging of myocardial architecture using immunolabeling and confocal microscopy [Frank Sachse] |
| 14:05 |   | Deep learning approach for the segmentation of cardiomyocytes [Andrea Dorizza] |
| 14:25 |   | break |
| 14:40 |   | First results on the impact of dynamic power capping on performance and power consumption [Amina Guermouche] |
| 15:00 |   | Choice of a linear solver and preconditioner for µCARP [Hartwig Anzt] |
| 15:20 |   | FEM Discretization and Implementation of the Cell-by-Cell Model [Fatemeh Chegini] |
| 15:40 |   | break |
| 16:00 |   | Lifting the code generation of ionic models to novel compiler technology [Tiago Trevisan Jost] |
| 16:20 |   | Overview of the numerical scheme for µCARP [Yves Coudière] |
| 16:40 |   | discussion |
MICROCARD Kick-off meeting on 19 April 2021